How is Breastfeeding 'Hard'?
I was very lucky in my pregnancy because it was relatively easy. I was happy, I was pain-free, I didn't get morning sickness and I was able to go on long daily walks right up until the day of my induction. By far the hardest part of the whole parenting experience for me so far has been the so-called 'fourth trimester' or post-partum period. Particularly the very first 3-4 weeks was the most difficult and the main reason was breastfeeding. As special, important, and beautiful that breastfeeding can be, it can also be an incredibly painful, anxiety inducting, emotion laden imprisonment. I am happy to say that Scarlett and I have a great breastfeeding relationship now, but there were definitely dark, difficult times in the beginning when I often questioned how others could find it so amazing and whether it was for me.
I had heard from many sources that breastfeeding can be 'hard' or 'frustrating' or 'challenging' while I was pregnant. I took a 90 minute class at Kaiser where the instructor basically told us we had no excuse to not breastfeed. It wasn't very helpful. I really didn't know what, if anything, I could do to prepare for breastfeeding before Scarlett was born. I focused all my energy on preparing for the labor and delivery because breastfeeding was a big unknown and I assumed we would naturally find our way. I still don't think there is much you can do to physically prepare for it, but I do think that really understanding what those first few weeks might be like could help you prepare mentally.
In this post I want to share the nitty gritty of my experience in hopes it might help someone. I know my experience wasn't the easiest that could be had, but I also know that it wasn't the most challenging. I am not a lactation expert of any kind, all I can do is genuinely convey what my world was like for the first few weeks, explain what makes it 'hard' and solutions that I used to cope.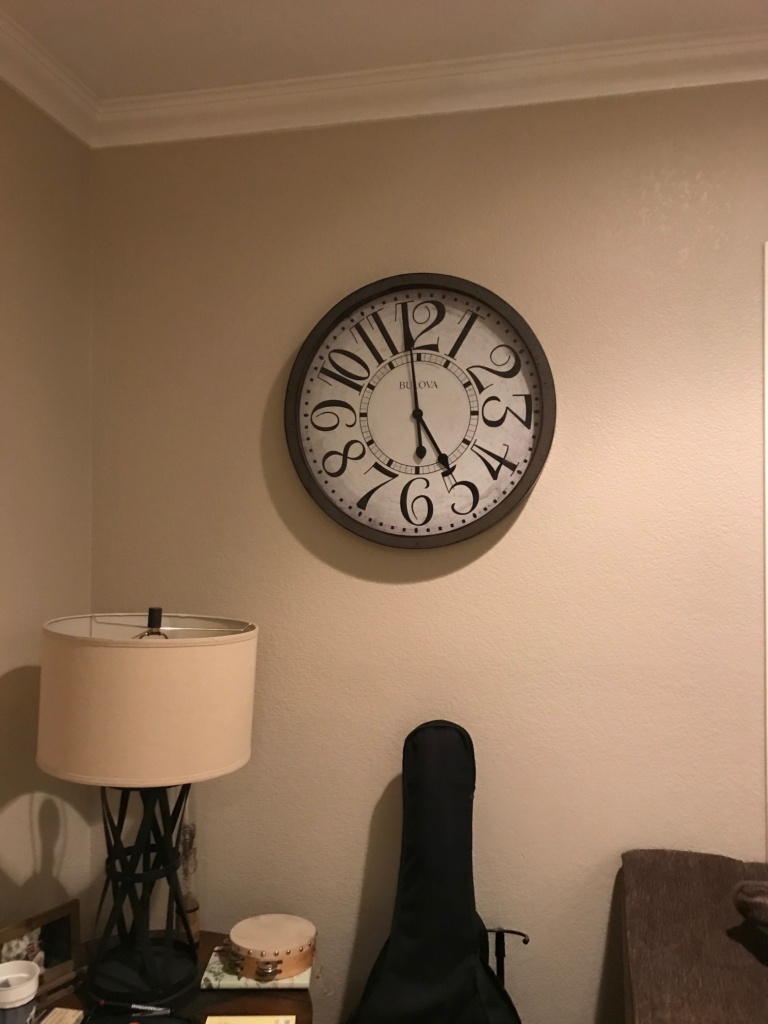 Time Consuming
The first big surprise to me was how time consuming it was. I don't think that I really realized how often newborns need to feed before I had one. The rule of thumb is pretty much every two hours and this includes through the night. If you are breastfeeding 'on demand' though you watch for feeding cues from the infant and feed them more often if they desire it. Some newborns will 'cluster feed' which basically means feeding nearly constantly or with very short breaks between sessions. So be prepared to literally not have time for anything else in the beginning. The frequency is counted from the beginning of the feed, so if you feed at 8AM expect to do so again at 10AM, 12PM, 2PM, etc. In the beginning, my baby wanted her feeding sessions to be extremely lengthy. It was not uncommon for her to go 30-40 minutes on one side before even switching to the next. My sessions sometimes lasted more than an hour, they were regularly 40 minutes. That's what I planned for every time. So if I needed to feed her in public, it meant excusing myself from the activity to go to the car and feed her for 40 minutes. If we had visitors, I excused myself to her room for a 40 minute feeding. If you do the math, you also realize that it leaves very little time to do much else before the next feeding commences. You get used to living basically an hour on, an hour off, for weeks. And if you are trying to also pump after each feed to increase your supply, expect to spend an additional 15 minutes or so doing that afterward. The pace was grueling, the emotions ran high, I was struggling to nourish this precarious new life and set my motherhood on the right course.
Time itself seemed to transform. It was no longer a marker for my working hours, meeting up with a friend or when the game started. It was a tracking device for my every movement—for a while I was instructed to feed 15 minutes on each side—no more, no less. I then needed to pump for 15 more minutes. I would have gone insane without a clock to time this, to give myself pep talks—just five more minutes to go. When we changed her, we took note of the time. The clock measured my life in a way that I never knew it could. I was "off work" and freed from any time dictated obligations, yet I was more bound to the minutes that passed than ever before. I tracked the time in small increments, without much thought at all to whole days passing or what the date was.
I also didn't realize that I would need both hands to feed her. One hand to guide my breast toward her mouth and cup it into a 'sandwich' and the other to guide / hold her head so that she correctly faced the breast and give us the best chances of getting a good latch on one of the first few tries. This meant that I wasn't able to read, scroll through my phone, get a drink of water, blow my nose or anything that I might have wanted to do to occupy my mind for 40-60 minutes each session. This is why having some shows lined up to binge watch hands free can be such a lifesaver while breastfeeding!
Incredibly Painful
As much as I had been told that breastfeeding might hurt, I was unprepared for the true physical pain of it. Somehow between leaving the hospital on Friday afternoon and visiting the lactation consultant Saturday morning Scarlett managed to shred my nipples. They were scabbed over, but the thin scabs ripped and oozed fresh blood each time my hungry baby attempted to feed. I inhaled sharply and yelped 'ouch' and other obscenities each time she tried to latch on. I think she could sense my negative energy and instinctively knew that the metallic taste of blood was not the sweet milk her body craved. That Friday night became the night of hell as our baby screamed, wailed, and lashed out at us inconsolably as her face scrunched redder, angrier and hungrier as the hours wore on sleeplessly. When the lactation consultant saw my nipples, scabbed over and adorned with hickey-type purple ridges she knew that I needed a break. I had expected some version of 'power through it' which I had heard from countless friends and stories on the Birth Hour podcast. When I pumped only a few drops of colostrum after 15 minutes, she told us firmly that we needed to supplement with formula so that she could get her weight back up after losing 10% of her birth weight. She assured me that it was just a rest for a few days for my nipples to heal and I could still pump to stimulate milk production. I cried raw, unrestrained tears there in the office, trying to come to terms with my failure yet thankful that she had granted me some respite from my torturous endeavor. I also felt ashamed and embarrassed because I had wanted so badly to be a part of the 'exclusive breastfeeding' club. While we were able to resume direct breastfeeding after a few days and it became easier when my milk came in it was definitely not pain free until the next month. The latch would send searing pain rippling through my chest and I would have to gear up and brace myself for it when she began feeding. I would exhale slowly and count in my head, using some of the same strategies that had gotten me through her labor. I also felt the strangest tingling and burning sensation throughout my breasts after each feed. It was as if the milk was being regenerated and I could feel that sensation as they refilled slowly. It was uncomfortable and each time I longed for the relief of warm water or a compress. This was every day, 8-10 times per day. It only got better incrementally, so slowly that you could barely notice improvement but by eight weeks nursing was pain free.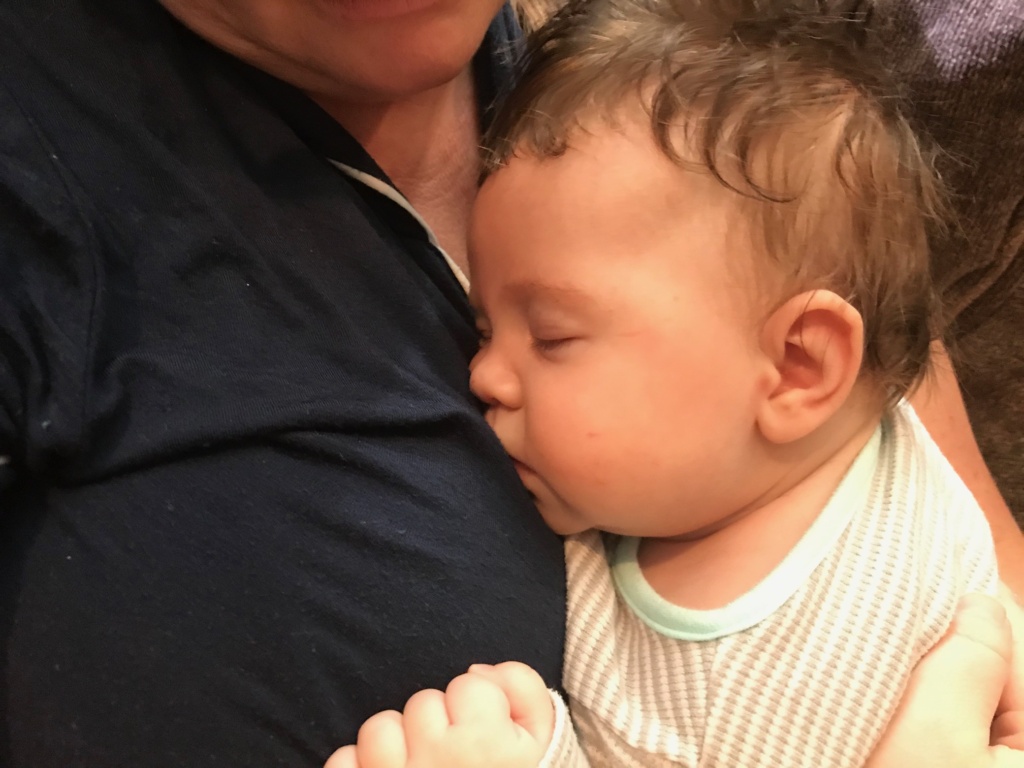 Failure and Rejection
Breastfeeding is the natural way for us mammals to feed our offspring. That is why so many people assume it will be easy or that they can just figure it out. It is also why failing at it feels like the ultimate, deepest, most personal failure. What is wrong with me if I can't even feed my baby? Am I just not cut out for motherhood? How can some people enjoy this? These types of thoughts ran through my head and tears sprung from my eyes when Scarlett turned her head away from my breast, howling from hunger but unwilling to suckle. She was frustrated with failing to latch too and horribly hungry. I wanted to help her but I felt powerless to force my breast into her mouth in the correct position and stimulate her to suck to extract milk. As we continued to try I swatted away the help or advice my mother and mother in law tried to provide. I wallowed in feeling a deep, personal rejection by my daughter when she would not feed from my breast. I felt so small, like I wasn't fit to perform this function that should be instinctual. My own child did not want anything to do with momma's milk and I was miserable. My husband can attest that on more than one occasion I screamed out of despair, pain and frustration, "I hate breastfeeding!" I felt inadequate as a mother and ultimately a human being. How could the wail and turned cheek of a baby reduce me to a worthless, sobbing pile of nothingness the way that it did? Somehow feeding my daughter was more mentally challenging than responding to a disaster, crafting an emergency plan, battling cancer, or any other obstacle I had yet faced in my life.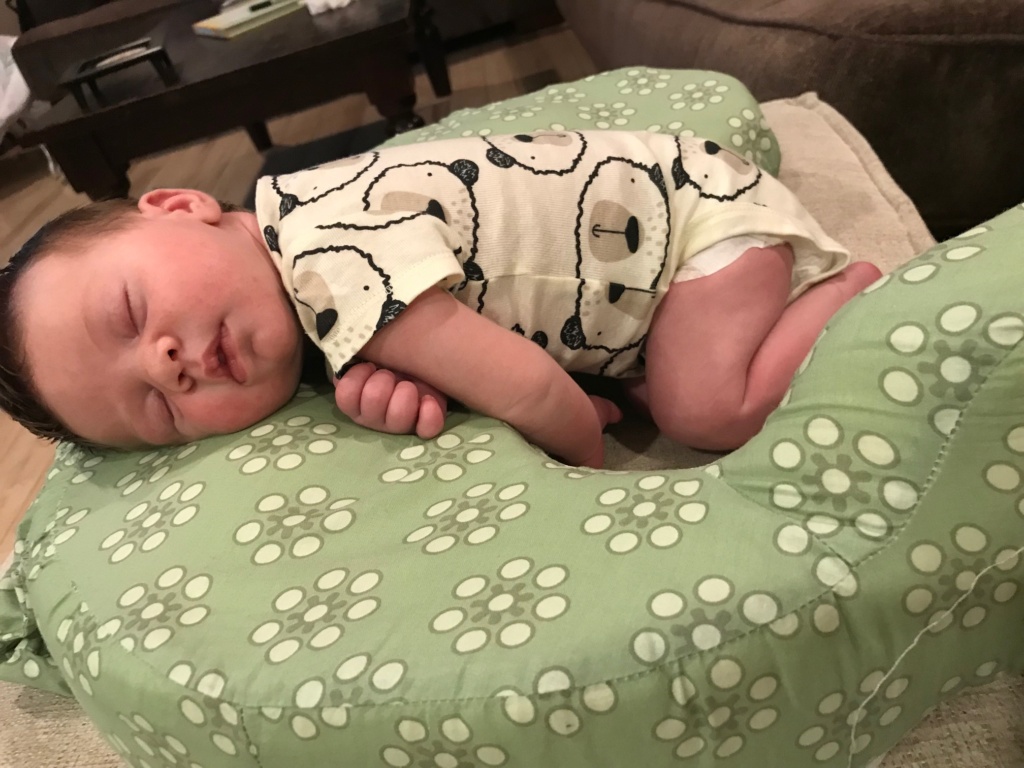 Literally Draining
I did not expect the hunger and the exhaustion. Breastfeeding is draining as the calories and nourishment from your own body is literally sucked into another. I have read that you burn an extra 500 calories a day. I thought I was eating for two while pregnant, but I felt the most ravenous hunger of my life while breastfeeding. I needed to eat immediately in the morning and I couldn't last from one meal to the next without significant snacking in between. The compounding factor was that I was in the heat of surgery recovery while learning to do this. Physically, I was not at my best to take on this most difficult journey. I was still on pain medication around the clock and there was just so much to keep track of. I had to document my pill schedule as well as every feeding, how long she fed directly on breast, how many ounces we supplemented, whether it was breastmilk or formula, every time she had a wet diaper, a dirty diaper, and even her naps. I felt like I was going mad trying to document all this while it was happening. I was totally sleep deprived and absolutely running on empty. I still couldn't get up and down from a seating position without assistance. My brain was racing around writing checks my body couldn't begin to cash. I needed to eat and I needed to sleep, but feeding her was my life's purpose and I was the only one that could do it. It was incredibly taxing.
The Pressure
Another mental and emotional challenge was the pressure of being the only one that could feed her. As many people that surrounded us offering help and support it still came down to me as the mother to be able to breastfeed her. It was my sole responsibility and I felt that I could never truly get a break. Even when we supplemented with formula I would have to be pumping simultaneously to make sure my supply kept up. Even if my husband or mom offered to take over one of the nighttime feeds, I couldn't really rest because I knew I needed to be pumping so that my body would know what her demand really was. I had been educated on how critical those first few weeks would be to shape the future of our breastfeeding journey. It was an immense amount of pressure that I had not anticipated. I also did not want to give up. I didn't want to fail at giving her what had been ingrained into my head as the most wonderful gift a mother could bestow. I had heard and read so much about all the benefits of breastfeeding, the way your body adapts to give the infant exactly what she needs based on a feedback mechanism through her saliva while attached to the nipple. I didn't want to deprive her of this because I was too weak or exhausted. I felt an incredible amount of social pressure to keep going from the constant dialogue on how superior breastmilk is to formula. Though every day I felt that switching to a bottle would be such a mental and emotional relief. Finally we could share the responsibility of feeding her and some of my burden could be alleviated. But I endured, hoping that I would find a light in the end of the tunnel. And I did.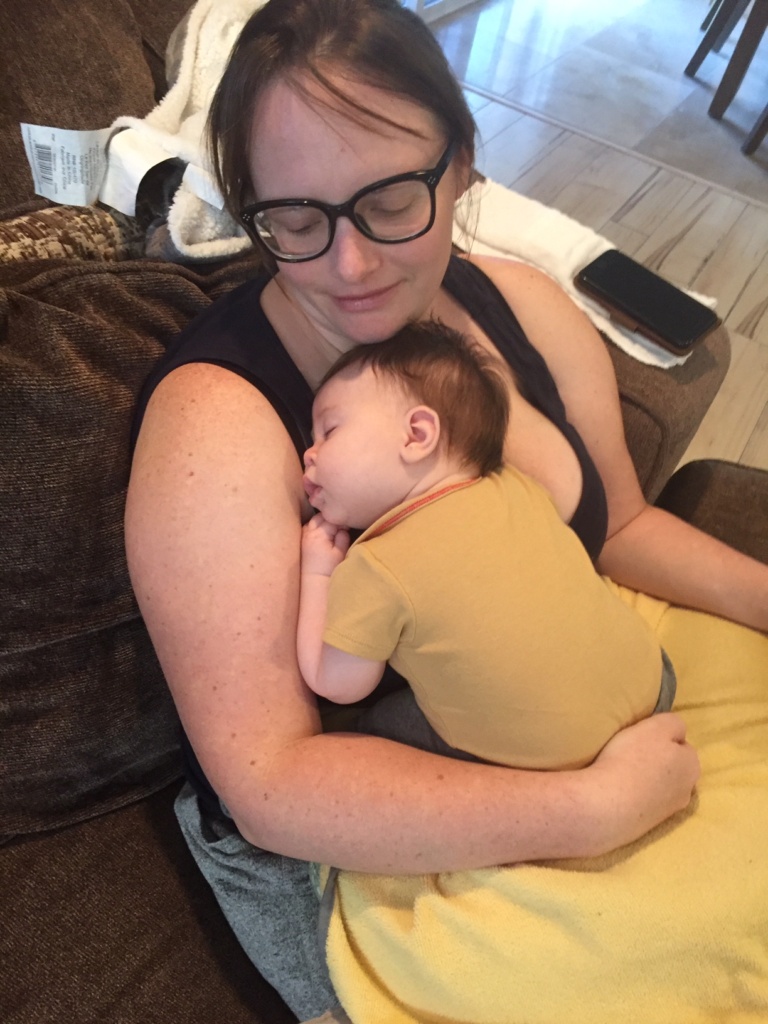 Solutions
Here are some things that helped me, by no means is this a definitive guide or am I suggesting that all of these things will help every person. But I know I wouldn't have made it through my own journey without some of these external factors.
Lactation Consultants
I must give a huge shout out to Kaiser Permanente's South Bay Lactation Center. We met with two different lactation consultants there and both were extremely helpful. It was amazing to already have the appointment set up for the day after we were released for the hospital. Even though we were struggling so much I feel like I still would've hesitated to reach out for help, too stubborn to accept that I needed assistance. They always set follow up appointments for us, taking the questioning of whether to go back out of the equation. They made it seem normal to struggle. They were able to hook me up with two free months of a hospital grade breast pump for home usage, which was oh so helpful. They have a super precise scale that will weigh baby before and after a feeding so that you can actually know how many ounces (or milliliters) he or she is transferring. This was extremely helpful, validating that we were making progress and giving me peace of mind that she wasn't going hungry after I fed her directly on the breast since we had no way to measure at home. They also would observe the latch and make sure you were getting it right. I felt like I had the opportunity to ask questions and better understand what was happening. They gave us a detailed print out of instructions after each visit, which was so crucial since my mind was literally mush at that time—trying to keep track of all the tiny details of Scarlett's life made it hard to remember what was said during conversations.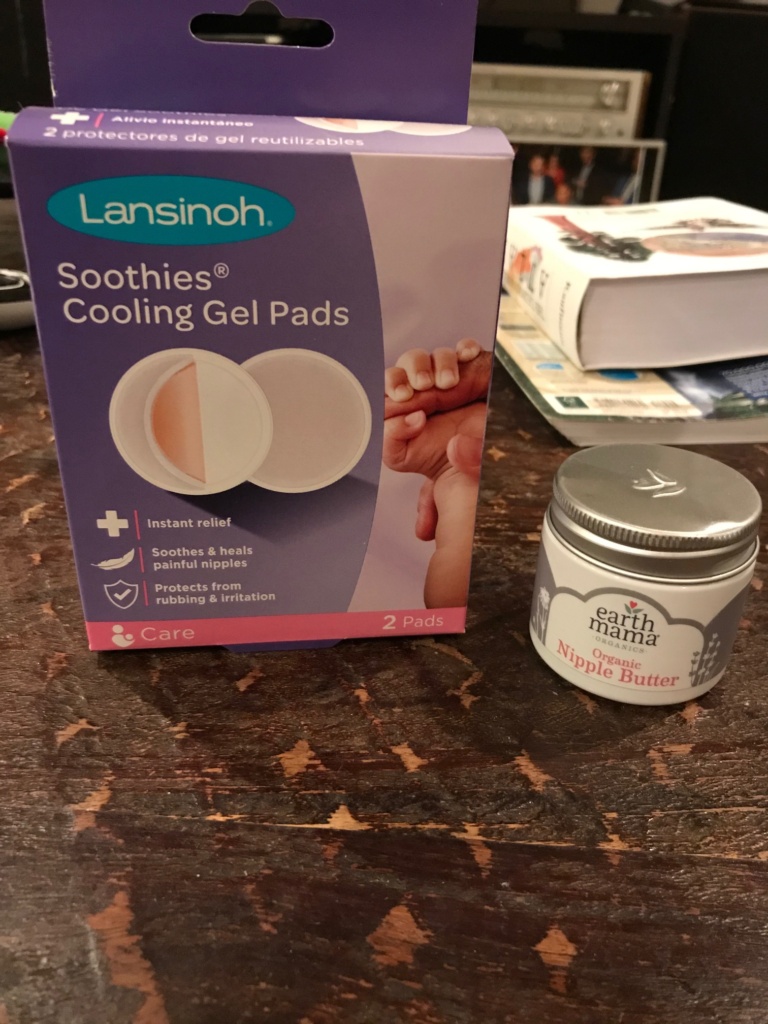 Accessories
There are a few things I would recommend for those of you embarking on your first breastfeeding journey. Gel soothing pads were a huge, huge help for me in the first few weeks. My nipples were always some degree of sore around the clock and these really helped to take the edge off. I would put them in the refrigerator during each feed / pumping session and then they'd provide instant cool relief as soon as I was done. Nipple butters were also a regimen that I indulged in, I had two different kinds and I kept one in the bathroom and one next to my nursing station so that I could apply as needed. It may seem basic but showering was huge. I always hear moms say that they go days without showering while taking care of little ones, but I seriously don't think I could've functioned without it. Each day it was the one activity that allowed me to feel human again, the warm water rinsing over my body and reminding me that I existed for more than just to feed a newborn. It felt amazing on my sore breasts and it was the one time of day they were free from a bra. I seriously would not skip this, it was the highlight of so many of those early days. I also had gel compression pads that could be heated or cooled for relief, I didn't use these as much as I wanted to frankly because I was so exhausted at the end of each feed it seemed like too much to even get up and microwave them. The few times I did use them it was with assistance from one of my supporters and they felt awesome! While you're pregnant, download a baby tracker app and get prepared to track away—at the lactation consultant and the doctor's offices they would always ask how many feedings, how many wet & dry diapers in the last 24 hours. I literally don't think I could have remembered this if I hadn't been meticulously tracking it in my app. The Brestfriend pillow has also been my most prized possession. We still use it and I highly recommend it, it's the perfect level for baby and it buckles around you so that it stays in place. The pouch that it has is also perfect for storing your essentials—I have nipple butter, headphones, my Kindle and her nail file in there. I also highly recommend making sure you get all your essentials together before settling in for a session, since you never know how long she'll want to nurse for or if baby will want to fall asleep on you right after! Cell phone & charger, water bottle, Kindle / ipad, the TV remote, a burp cloth for baby, a snack if you need it…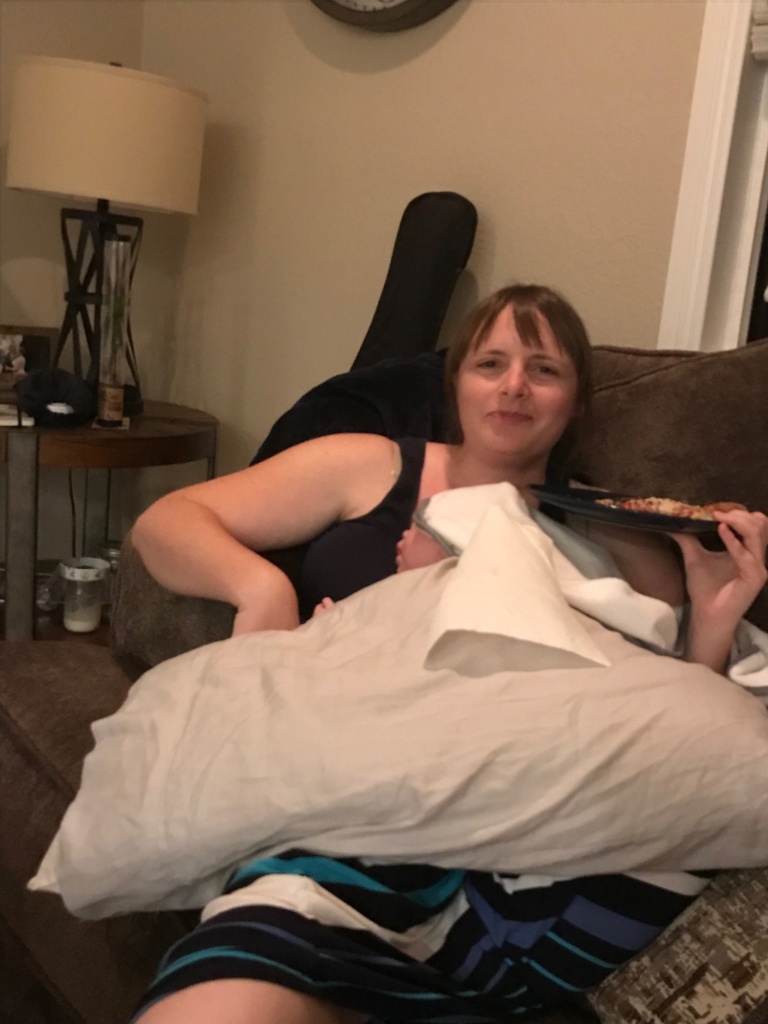 Helpers
I can't stress enough how important it was to have my husband there to help me. I really don't know how single mothers do it and I am so incredibly thankful for his support. I also had my parents come visit for a week in the beginning and they were amazing. So seriously, don't be shy! Enlist friends and family. The most helpful things they can do are help with cooking, cleaning dishes, washing your breast pump parts, refilling your water bottle, doing laundry, even feeding you directly! There were so many times I was grateful for my mom to literally put food in my mouth while I was starving but using both hands to feed the baby. Your helpers might not be able to help with directly breastfeeding, but they can help with everything else. It really does consume your whole life, so any help you can get with your other normal functions is going to work wonders for your sanity.
Alternatives to Direct Breastfeeding
Knowing when to take a break from breastfeeding (with the help of a lactation consultant) really saved our long term breastfeeding relationship. I thought that it might be ruined when we fed Scarlett formula. But it was absolutely crucial for my mental health and to let my breasts heal. I was able to pump during this time to continue stimulating my breasts and help my milk come in. We bought formula and my husband being able to feed her formula with a syringe was a lifesaver. I felt like a weight was lifted. I would recommend researching and even purchasing a small store of formula to have on hand for after birth even if you plan to exclusively breastfeed. We had to frantically go to the store and procure some, and I found myself falling asleep out of pure exhaustion while trying to figure out which brand was best to feed her.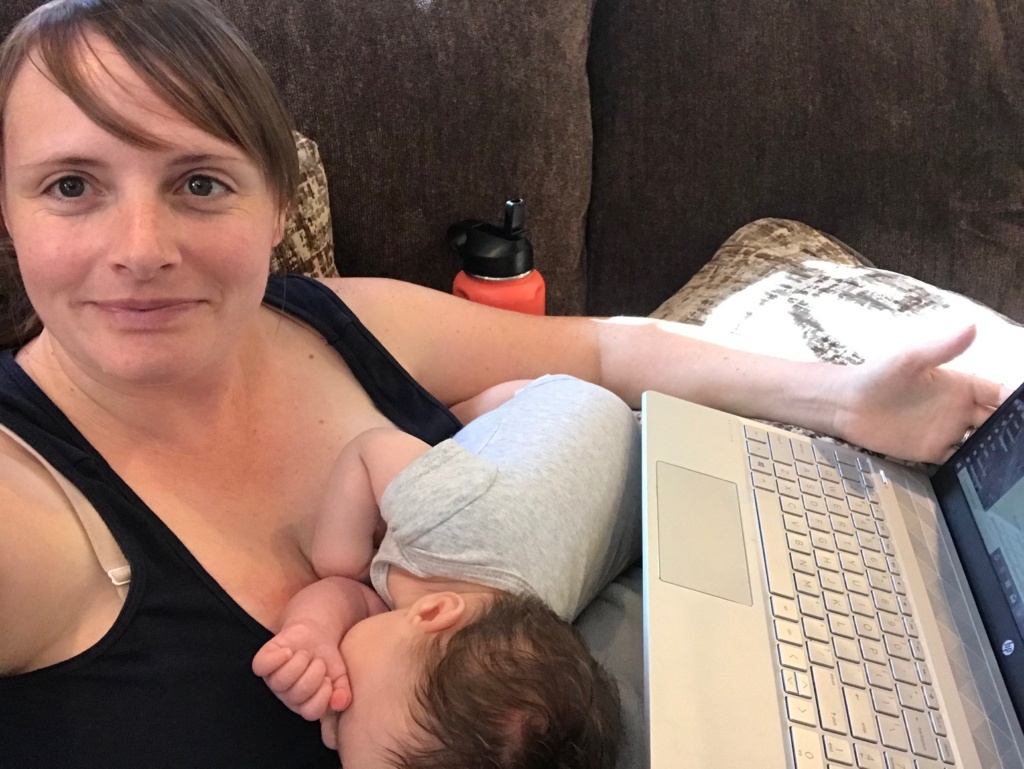 Light at the End of the Tunnel
Gradually, these difficulties got easier. I got stronger I guess, or we just learned together through practice how to make the symbiotic process work. I became accustomed to the routine and learned what to expect. I am so thankful now that I stuck through those very dark, very low days. Breastfeeding now seems like it is actually the easier way to feed her—no bottle or pumping accessories to worry about washing multiple times a day, no mental inventory on formula that I have to keep up and remember to buy. I can give her everything she needs freely and easily from my body and it carves out skin to skin cuddling time for us each day. It wasn't easy but I appreciate the benefits that this most difficult battle has bestowed on my daughter and I hope I can prepare and inspire others to undertake the journey. I hope this knowledge can help you mentally prepare and know that it isn't all the perfectly lit, peaceful Instagram posts you see. It's ok to not love breastfeeding, and it's ok to choose not to do it. And if you suffer while embarking on this endeavor, know that you are not alone.