As I approach the due date of my first child this weekend, I am reflecting on how this pregnancy journey has been shaped by my experience as a cancer survivor. For many young moms, labor and delivery will be their first / most serious experience with the medical system, and possibly their first overnight stay at a hospital. And many cancer survivors are older, already mothers and not trying to conceive while in recovery. As someone who was diagnosed with cancer (a very rare clear cell sarcoma within the colon) at 26 years old, and becoming a mom afterward at 33 years old, I find myself in a unique position—with both benefits and drawbacks.
When I got the diagnosis in 2012, becoming a mother was one of the primary goals that I quickly realized I still wanted to accomplish with however much of my life that remained. I made a bucket list of sorts and having a child was right up at the top. Of course, to create the ideal environment to raise one would take years. I had not yet found my partner, my career was not yet well established and certainly living in a house with four roommates was not the best place to raise a child. It took time, and I'm forever grateful to have had these 7 years to get where I wanted to be; here, as I am about to experience the joy and journey of motherhood.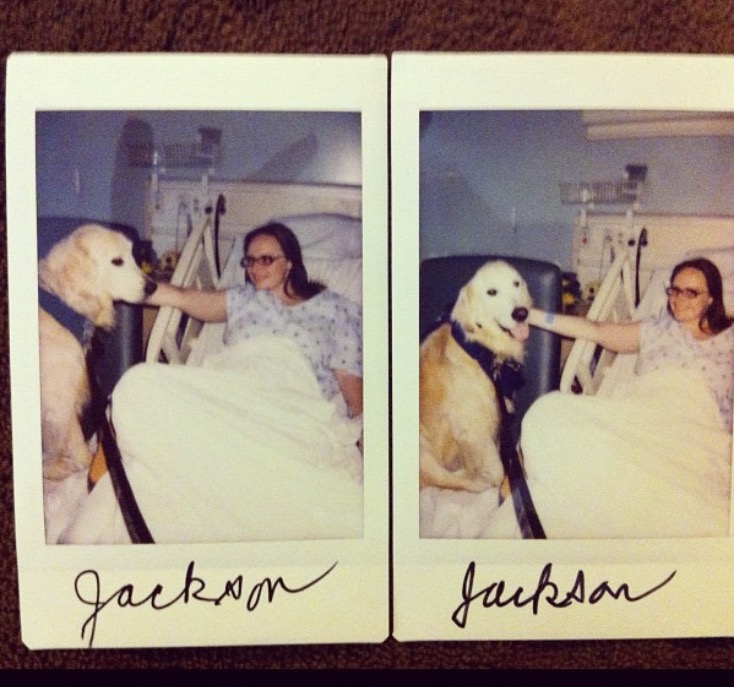 With the goal of ending on a positive note, I'll begin by addressing downsides to going through pregnancy as a cancer survivor. The first is that you can't go for your normally scheduled follow up scans. After primary courses of treatment such as chemotherapy, radiation, or surgery, cancer survivors are typically kept under surveillance for years through follow up imaging to ensure our bodies are still cancer free. Unfortunately, MRI's / PET Scans and babies in utero don't mix. Depending on the frequency your doctor is recommending, this can certainly throw a wrench into your follow up care plan since pregnancy is more than 9 months and many people are supposed to go multiple times per year. Skipping recommended scans can certainly make a survivor nervous because the fear of recurrence is omnipresent, very real—always there, just out of sight. Clear scans keep you reassured of your health and help you continue forward on your life track with reduced anxiety. I am very fortunate in that being 7 years out with no recurrences I have only been going annually for the past couple years. My oncologist actually approved an even longer gap for me to accommodate my pregnancy and recovery—waiting about a year and a half until Spring 2020. While it's a little nerve-wracking to be unsure of what your body is up to for that length of time, at over 7 years I am feeling pretty good about this–perhaps I've graduated to the 18-month interval from the 12.
The second downside of approaching this as a cancer survivor is the heightened worry with all that can go wrong in pregnancy. There are a lot of tests, many different criteria for levels in your blood draws, blood pressure, your weight, protein or glucose in urine. I actually did experience elevated fear and paranoia that I know is a kind of PTSD from my cancer. At the beginning of my 2nd trimester, my liver enzymes (AST/ALT) mysteriously shot up and I had to go for several repeat blood tests, which continued to escalate to levels over 200. This can be a marker of liver damage or of Intrahepatic Cholestasis of Pregnancy or possibly preeclampsia. Trust me, Google will show you lots of different disorders this can be a foreboding symptom of.
I was referred to the high-risk doctor and a liver specialist. They even performed an ultrasound on my liver to check for any damages or suspicious lesions. Boy was that scary for me, it was the first time since my original diagnosis that I had been told something was abnormal and needed to be investigated. It was so tough to relax and think positively as the creeping, agonizing panic of something being wrong with my body began to sink in from the sidelines. When your body has psyched you out once already by throwing you a super-rare-cancer-at-26-years-old-wildcard you are constantly on your toes at any little sign that something isn't right. Even after 7 years, I continue to be a bit of hypochondriac, but this was the first time that doctors were concerned too. In my case, my liver enzyme levels simply began dropping until they returned to normal levels. No explanation whatsoever. The body is still nature's mysterious machine in a lot of ways. For as much as we seem to decipher about it there is so much more that we have yet to understand. But as a cancer survivor, it is difficult to trust your body to just be normal sometimes. You know all too well that just because you feel fine and you're functioning perfectly well that doesn't mean there isn't something sinister at play in your cells.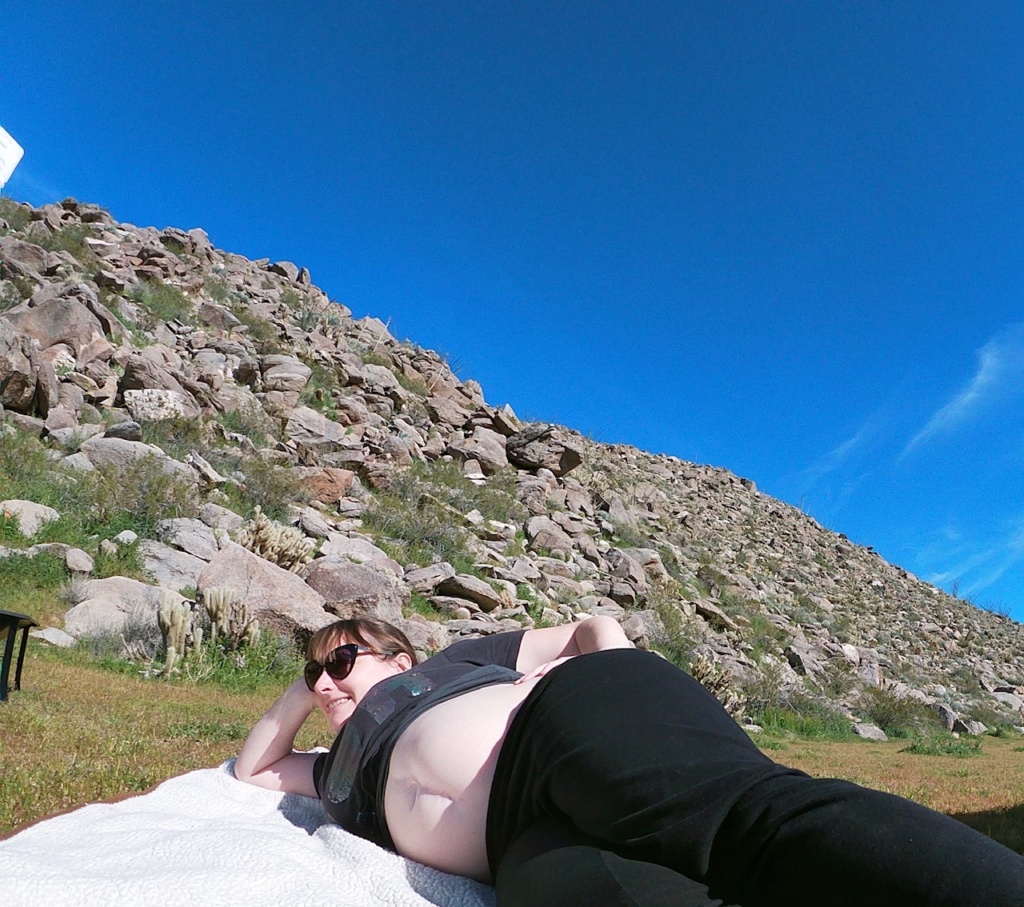 I think the biggest benefit of approaching pregnancy as a cancer survivor is that I'm not afraid. The idea of labor and delivery isn't really scary to me the way it is to some first-time moms. A lot of people are afraid of getting a C-section, afraid of the recovery, afraid of the scar, and fearful of infection. But having already gone through a major, exploratory, emergency surgery on my abdomen I'm not scared of the possibility of a C-section. It's not my first choice for how I deliver my baby, but I have no anxieties about undergoing the procedure if it's necessary for a safe delivery. The video we watched in LaMaze class talked about how they slice through the abdominal walls and the layers of fat and muscle, then pull it apart so the baby can come out. It made it sound kind of gory and I almost wonder if it's designed to scare you—but 7 years ago that happened to me. It was even worse, a large vertical incision was made through all my layers and my intestines sliced open, a section removed, then stitched back together. They poked around at my other organs too since they didn't know what they were dealing with at the time, hence the term 'exploratory.' That sounds a hell of a lot more intense than a small, measured, horizontal incision on the uterus. The recovery? Yeah it was no fun. But I made it, I was able to go on short, slow walks tethered to my IV pole within a couple of days. It took a couple weeks for me to be able to go on longer ones around my neighborhood, after the wound vacuum was removed. Yes, my wound did get infected. Due to the emergency nature of my surgery I couldn't do a proper bowel cleanse / fast beforehand. So I had to wear the vacuum for a week after the infection was discovered, then do 'wet-to-dry' dressings and change them myself twice a day until it healed from the inside out. What are the odds of that happening with a C-section? Very low I'm sure. The Cesarean is such a controlled, well-practiced procedure. One in three births in the U.S. occurs through this method. Even the emergency ones are nothing in comparison to the major, complex surgery that I've already been through, recovered from and owe my life to.
In terms of vaginal delivery and the whole labor experience, I know many people are afraid of the pain, so many want to request an epidural immediately to spare themselves from horrible contractions. I am not so afraid of it, although it is the unknown so I'm also not opposed to the epidural as a tool for a difficult and prolonged labor. While it's true that I have never experienced labor and probably nothing similar, I did experience prolonged pain and discomfort in my stomach for months before the surgery. The doctors told me that I must've had a high tolerance to pain to not have come in sooner. This gives me hope that I'll be able to endure labor pains.
Am I afraid of the epidural? I'm a bit hesitant about it, since I've never had a needle in my spine before. I'm hoping not to get one, but again if it will help me relax to get through a prolonged labor I will. This is a routine procedure that I am confident the anesthesiologist is well-practiced in. I do have the benefit of knowing I'm not allergic to anesthesia, having undergone general anesthesia for my surgery.
I'm comfortable in hospitals. They've saved my life once before and got me on the road to full recovery. Needles, IV's, and blood draws don't scare me at all because I've gotten used to these medical tools through the sixteen MRIs / Pet Scans I've had for follow up care. None of these interventions bother me because I literally owe my life to the benefits that modern medicine can provide.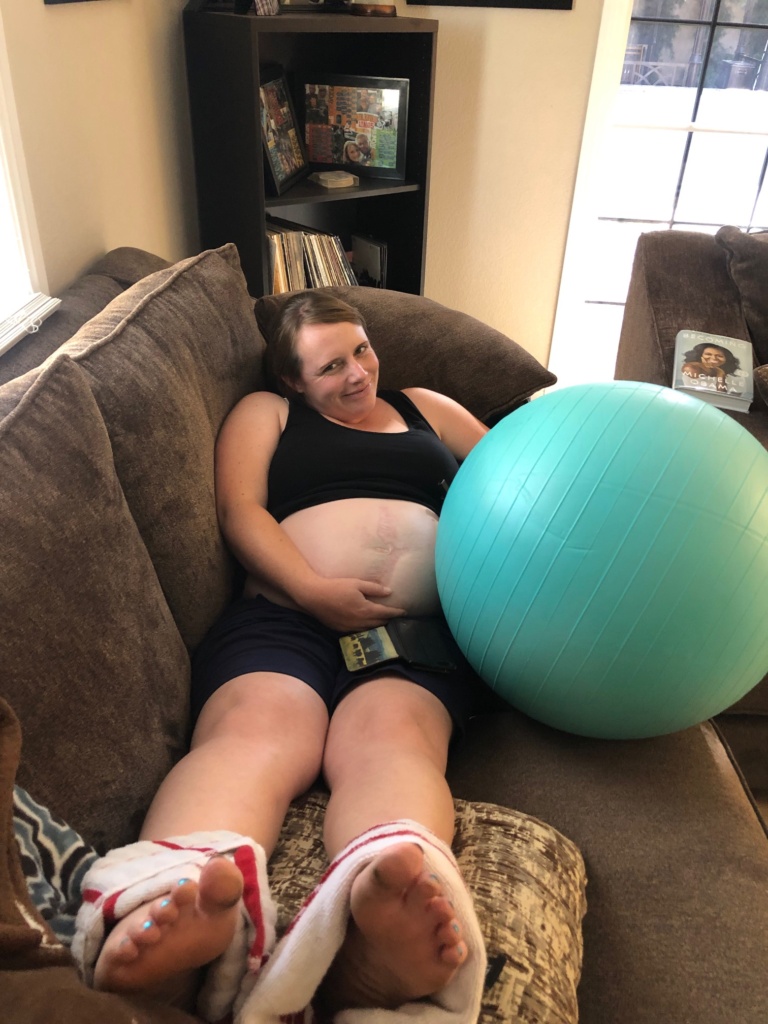 Most importantly, I think the cancer has prepared me for this experience in a positive way because I know I'm a survivor. Because I've gotten through something far more horrific and menacing than childbirth. I know that my body can recover, that I can heal and fight off infections. I know that I can take small quantities of necessary opioids for pain, I've felt the itching side effects, and I know that I can wean myself off them successfully. I have been through a much scarier, bigger battle than this and I am still standing strong.
I approach my first birth with confidence, with wisdom, with gratitude, and with excitement that this time when I go to the hospital it will be for something beautiful. This time, my body has been growing a human being, not a malignant neoplasm, and the birth of this baby will be spectacular and celebrated. I am experiencing a normal human condition—a womanly rite of passage that has given longevity to the humanity for generation. My body is meant to do this and this is one of my dreams.